Jhene Aiko Quotes With Images
Jhene Aiko is an American singer, songwriter, and recording artist. She has released two studio albums, "Souled Out" and "Trip." She has also collaborated with other artists, including Drake, Big Sean, and Childish Gambino.
She is best known for her soulful and ethereal sound that has captivated fans all over the world. Her lyrics are often filled with insight and inspiration, and her quotes are no exception. In this collection of Jhene Aiko quotes with images, we explore her thoughts on life, love, and relationships. Enjoy!
Who Is Jhene Aiko
Jhene Aiko is an American singer, songwriter and recording artist. She was born Jhené Aiko Efuru Chilombo on March 16, 1988 in Los Angeles, California, and is of Japanese, Spanish, Dominican and African American descent.
Aiko began her career in music in 2003, appearing on the single "No L.O.V.E." by R&B group B2K. She released her debut mixtape Sailing Soul(s) in 2011, and her debut studio album Souled Out in 2014. Her latest album, Chilombo, was released in 2020.
Aiko is most known for her critically acclaimed EPs Sail Out (2013) and Souled Out (2014). She has collaborated with many other artists, including Drake, Big Sean, Childish Gambino, Ty Dolla $ign, and more. Aiko was nominated for two Grammy Awards in 2020 for her work on Chilombo.
She has also been nominated for numerous other awards, including eleven BET Awards, five MTV Video Music Awards, and two American Music Awards. Aiko is a philanthropist and has worked with numerous charities, including United Way, the Make-A-Wish Foundation, and UNICEF.
You can find more in our Quotes section.
Jhene Aiko Quotes
Shame on you for staying the same
I think if a woman is feeling aggressive, she should be aggressive and not hold back
What you create for you, no one can take from you
You have to realize that you are everything and more just on your own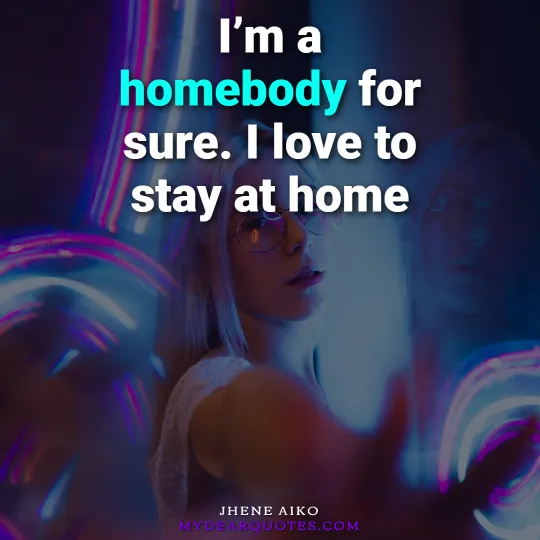 I'm a homebody for sure. I love to stay at home
Nothing really came, everything was like inspired by something
I belong to the world. I'm in a relationship with the world
I'm an acquired taste… not for everybody, but for the ones that get me… I will give you all of me, all the time
Go with the wind, you know, like a sailboat. I think that's really important when it comes to peace… inner peace especially
I appreciate when people listen to the sad songs, because it's almost like telling someone your problems and having them listen with a compassionate ear
Awesome Jhene Aiko Sayings
I accept the things I cannot change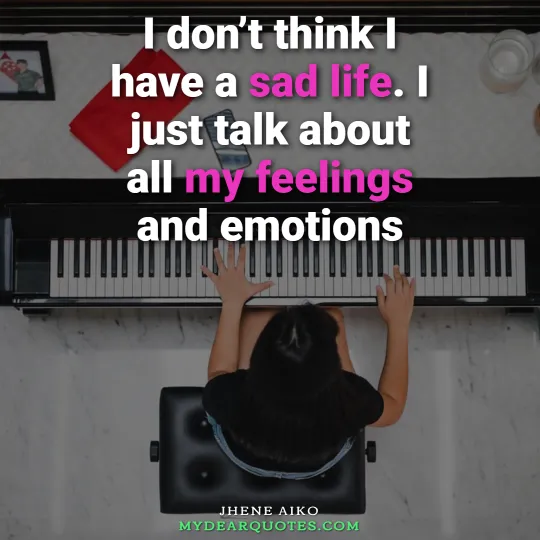 I don't think I have a sad life. I just talk about all my feelings and emotions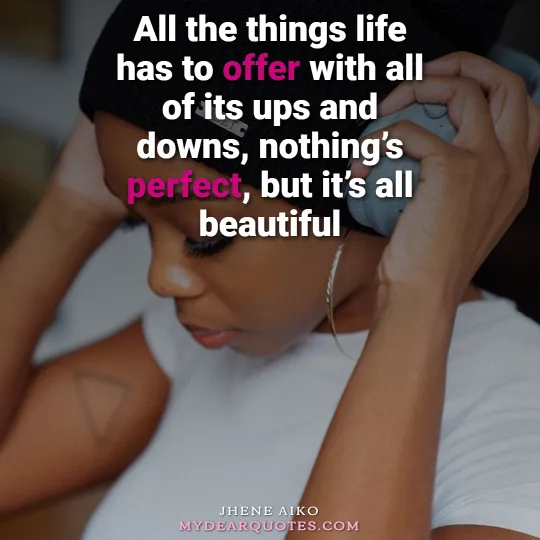 All the things life has to offer with all of its ups and downs, nothing's perfect, but it's all beautiful
I want to write some books. Books that have nothing to do with music, just some fiction type of books for a whole different audience of people
I am a sailing soul, a free spirit. I don't think I could ever be tied down
I appreciate all the people that can respect and appreciate my music
When I find something good, I stick to it for like a month. I'm usually late on like other stuff. Kendrick Lamar, I can play that often
I've been offered things from alot of different labels and stuff like that, but it's just like, it has to be perfect. I'm not going to sign my life away
I'm not a party animal. I'm a chill homebody. I like to watch movies and go out to eat. That's my idea of a good time. I'm definitely able to be social
Just be yourself and wear deodorant
Short Quotes From Jhene Aiko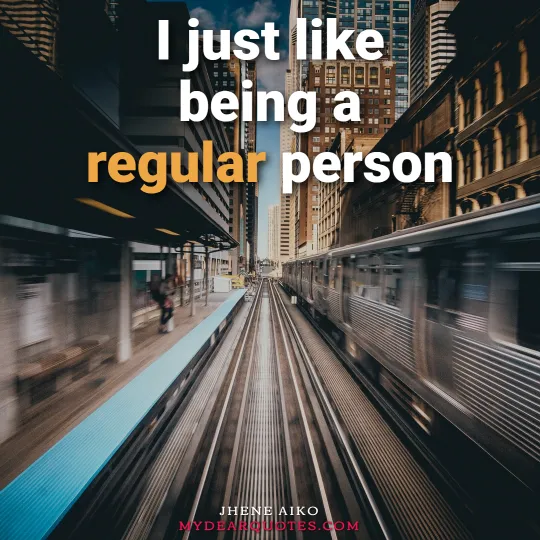 I just like being a regular person
I've always been an over-sharer to the point where I'll meet someone and just start talking and telling them everything about my life
I think the journey is the reward, I think that it's about being on the right path, the path for you
I want it to make people to be aware of life; I don't want my music to be a distraction. I want to light a path
As I got older, I really got into Tupac's poetry, his books and just learning about his life and what he was into
I don't compromise my happiness for anything. If I find what makes me happy I'm going to do that
Change is inevitable. Why hold onto what you have to let go of?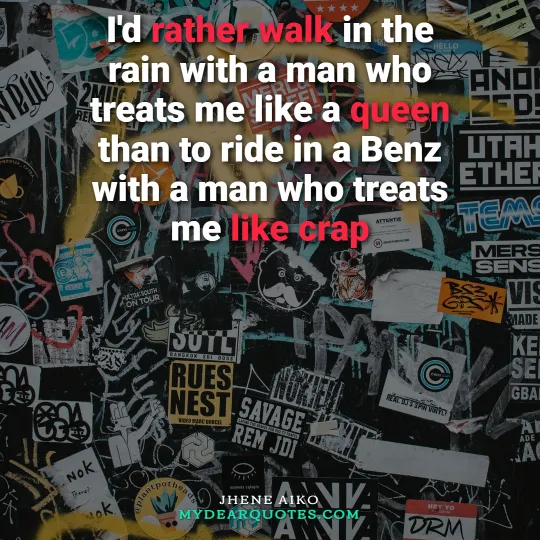 I'd rather walk in the rain with a man who treats me like a queen than to ride in a Benz with a man who treats me like crap
You have got to trust the signs. Everything will turn out fine
I'm probably my biggest critic. There's nothing anyone can ask of me that I haven't already asked of myself
Whenever I was going through something as a kid, I would write it down and I would turn it into a poem
Yeah, I mean I'm a water sign. I'm a Pisces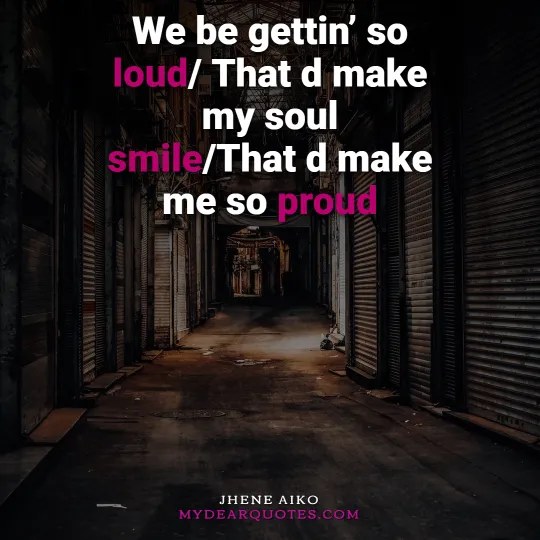 We be gettin' so loud/ That d make my soul smile/That d make me so proud
If your dude come close to me, he gon' wanna ride off in a ghost with me
Please do not drive me crazy, unless you're gonna go with me
---